3.12.2021
The first METRANS train, loaded with 41 TEUs of infants water, departed from Slovak METRANS HUB terminal in Dunajská Streda, heading to 10,000 km distant Chinese town of Xi'an.
Slovakia is known for its rich mineral and spring water deposits. Local producers export this water overseas into countries that lack sufficient clean water supplies. Especially, when the health of infants is at stake. For Budiš, one of Slovak leading mineral spring brands, this is the first case of exporting its products to China. The infant water branded "Zlatíčko" is high-quality pure water suitable for infants' nutrition without the necessity to boil the water in advance. Now, in cooperation with logistics company GEFCO and intermodal operator METRANS, it delivers supplies overseas faster, cleaner, and – overland. Budiš has committed to only using train transports for its China exports.
On 18th November 2021, the first Slovak eastbound loaded container train to China departed from the Slovak HUB terminal in Dunajská Streda. By using the New Silk Road, it was routed via Poland and Belarus to China, where it is bound to arrive in Xi'an in 25 days. Then, the load of bottled infant water will be distributed across five provinces in China.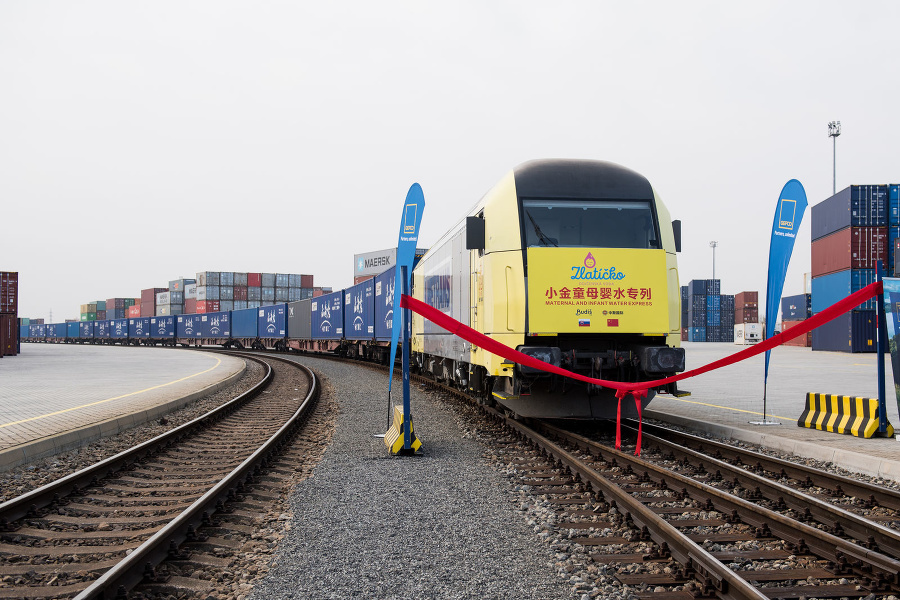 By using New Silk Road, these products will find their consumers faster by approximately one month. At the same time, the CO2 is reduced by using electric locomotives for the most part of its journey. For the remaining CO2 produced, GEFCO has committed to offsetting it by investing in green projects.
The transportation also uses high-tech to monitor and inform the customer about the temperature, location, or unexpected movements of palettes.
METRANS, the leading central European intermodal operator, has been growing on the New Silk Road over the past few years. In 2020, the company recorded a 114% increase on China to Europe routes. As China is the global manufacturing hub, most trains are heading loaded to Europe. However, there has been an increase of loaded outbound trains from Europe to China too, such as logs, dried, milk, or, for example, the Austrian pulp heading from Linz to Qingdao. For Slovakia, this is the first export case by the New Silk Road. The return load will be routed via Ukraine and the underutilized Dobrá transshipment terminal at the eastern border of Slovakia.
For METRANS solutions on the New Silk Road, download our presentation in English, or in Chinese.